5 common mistakes among bettors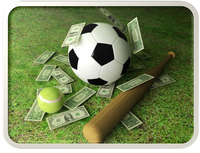 Sports betting may be one of the most lucrative and fun projects for your free time. To be like that, it is necessary to avoid making some of the most common mistakes among bettors.
See what we have in mind:
1. Placing a bet without any analysis made – clearly, you are not supposed to wager on events or sports you know nothing about. The more in-depth analysis you make, the more you increase your chance to win. Those people, who deal professionally with sports betting, devote a few hours daily to come up with good sport picks. Of course, if you are not an expert, then there is no way to spend your entire day researching. You should be able to make at least a basic analysis of the upcoming games. Some bookmakers will even help you as they have special sections for statistics and news.
2. Impatience – be patient and do not think about the losses as something fatal. Such series happen even to the most successful and experienced gamblers. Always follow the correct management policy of your bank. Never bet too big a percentage of your money on one or several games. At any moment, you must be ready for a long losing streak.
3. Quantity at the expense of quality – the bookies offer an endless variety of betting options so the beginners may be easily misled. The most common error is to place too many different bets without evaluating the risk. You can do that only in case you have bought professional sport tips.
4. Betting at the wrong place – choosing a good bookmaker is something you should not underestimate. Check out some reviews and customers' opinions and then select the bookie that best suits your needs and desires.
5. Considering only the rankings – when you prepare your sport forecast, naturally you look at the ranking, doesn't you? There is nothing wrong about that. But remember that the current form of the teams sometimes is more important than their place in the classification. The higher-ranked team is not always the better one.
If you learn to avoid those mistakes, then you will be among the people, using the most profitable strategies. The answer to the question 'how to win from sports betting' will be clearer for you!
Blog of Sport predictions