How you should NOT bet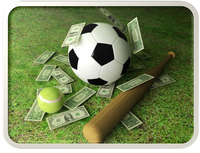 Every punter knows that bookmakers are not so easy to be defeated. Of course, it does not mean that it is an impossible task. Millions of people are trying to outsmart the bookies every day. There is no exact formula for reaching success. If there was a formula, it would contain the following parts: luck, great intuition and good soccer picks. Deep research, extensive knowledge and logical conclusions – all of them are essential for preparing a trustworthy soccer forecast.
Plenty of beginners (and sometimes advanced bettors) tend to make common mistakes. Those errors lead them to disappointment and big financial losses.
See how you should NOT bet:
Without a proper money management – if you do not manage your bank wisely, soon enough you will realize that you have made a fatal mistake. You must not use everything you have on a single bet no matter how confident you football tip is. Sometimes the result of the game changes in the last minute. And sometimes, bookmakers have wrong evaluations about who is the favorite. Those are the reasons why you should have enough finances and be prepared for eventual losses.
Too often – if you bet too often, then it probably means that you attempt to chase your losses. On the opposite, if you are into losing series, then you must give yourself a little break. What is more, you must be selective. It may be tempting to bet on every game you watch on the TV or to bet on different sports. That chaos, however, will not bring you anything good;
Emotionally – sometimes it is very difficult to separate intuition from emotion, especially when you are excited by the thought of winning some easy money. You can easily be misled. Your football picks must not be based on personal affection towards a certain team, player, etc. Your bet must be well thought and with a reasonable amount of cash.
If you think that you can't form correct soccer tips, then consider using professional services. Getting pieces of advice by tipsters could be really useful and profitable for you.
Blog of Sport predictions